Welcome
to our shop!


Whether you need your top turned into a quilt or you are ready to make the leap into long arm quilting, "We Will Help You Get It Done."

We offer long arm quilting services in addition to offering HandQuilter Long Arm machines with all the accessories – rulers, groovy boards, and the ProStitcher for computerized quilting.


February 7 thru 17 Promotion with HQ Longarm package and choose from Free Shipping or a Free 'And I Quilt' longarm kit. Shipping value up to $450.00 and longarm kit value up to $390.00.

New Items available:

The Micro Foot is ideally designed for micro quilting, stippling, and thread painting. The Micro Foot also provides precise access to the quilting area when working with embellishments. The base of the foot will allow a clear view of the stitching path in every direction. Your machine should already be fitted with a Handi Feet mount that works with the interchangeable Handi Feet.

Pinpoint Needle Laser


The Needle Laser Accessory provides a guide for accurate needle placement at the start or end of a quilting design. The laser light is adjustable for precise alignment with the machine needle. Compatible with most longarm machines with USB ports at the front of the machine. If no port is available at the front of the machine, this accessory can also be installed on other longarm or domestic machines with the addition of a USB 2.0 wall charger and USB 2.0 Type-A male to female extender cable (not included).




We have the new 18 inch sit down machine in our shop for you to try. It has a built in stitch regulator in addition to other new features. We are pretty excited to get one in the shop. You can see more information on the Longarm Machines tab.




==============================

In our shop we have the 18" Capri Sitdown Machine, Simply 16 Little Foot, 20" Amara with ProStitcher, the 24" Forte, the 24" Fusion with the ProStitcher, The Simply 16 with the Little Foot Frame is the answer to those who do not have room for a 10 or 12 foot frame. The frame is only 5 feet long and the quilt is clamped onto the bars.
We'd love to have you stop by to talk quilting with us.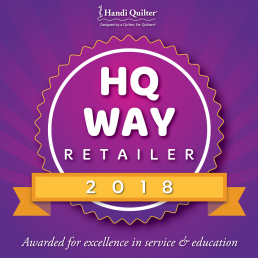 Click here for
HandiQuilter Website
Sheryl and Betsy ( S&B)