Welcome

to our shop!



We are having a Longarm Education Event on October 11 and 12. Vickie Kerkvliet is a National Educator for HandQuilter and will be here to teach classes. Look on our Event page for the class descriptions.
===============================
Whether you need your top turned into a quilt or you are ready to make the leap into long arm quilting, "We Will Help You Get It Done."

We offer long arm quilting services in addition to offering HandQuilter Long Arm machines with all the accessories – rulers, groovy boards, and the ProStitcher for computerized quilting.

In our shop we have the 20" Amara with ProStitcher, the 24" Forte, the 24" Fusion with the ProStitcher, as well as the 16" Sweet Sixteen, a sit down machine for those who have perfected their quilting skills using the "push and smush" method on their smaller sewing machine. The Simply 16 with the Little Foot Frame is the answer to those who do not have room for a 10 or 12 foot frame. The frame is only 5 feet long and the quilt is clamped onto the bars.

We'd love to have you stop by to talk quilting with us.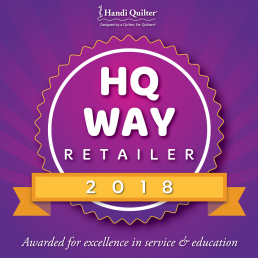 Sheryl and Betsy ( S&B)