Welcome
to our shop!

Holiday Hours:
We will be closed all of Christmas week. Saturday, December 21 will be our last day at the shop. We will reopen after New Years day on Thursday, January 2nd.
============================

A new 18 inch sit down machine is shipping around December 10th. It will have a built in stitch regulator in addition to other new features. We are pretty excited to get one in the shop. You can see more information on the Longarm Machines tab.



As a result there is a clearance sales on the sit down Sweet 16. The price now includes TruStitch and Overlay FREE with the purchase of HQ Sweet Sixteen order.

HandiQuilter has announced to us that there will be price increases January 1st or shortly after. We do not have any new numbers yet but if you are considering a longarm machine - now may be the time to buy.

==============================
Whether you need your top turned into a quilt or you are ready to make the leap into long arm quilting, "We Will Help You Get It Done."

We offer long arm quilting services in addition to offering HandQuilter Long Arm machines with all the accessories – rulers, groovy boards, and the ProStitcher for computerized quilting.
In our shop we have the 20" Amara with ProStitcher, the 24" Forte, the 24" Fusion with the ProStitcher, as well as the 16" Sweet Sixteen, a sit down machine for those who have perfected their quilting skills using the "push and smush" method on their smaller sewing machine. The Simply 16 with the Little Foot Frame is the answer to those who do not have room for a 10 or 12 foot frame. The frame is only 5 feet long and the quilt is clamped onto the bars.
We'd love to have you stop by to talk quilting with us.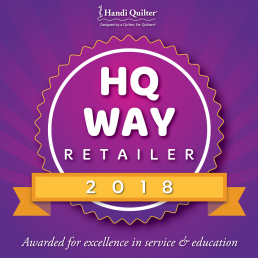 Sheryl and Betsy ( S&B)