Welcome
to our shop!


Betsy and I (Sher) are going to retire. We are only accepting quilt tops for quilting until June 30.

We are offering 50% off on longarm quilting accessories except for thread. We have the following studio machines for sale.

Avante with Elec Channel Lock and groovy board adapter. $6,500

Avante (newer) Elec Channel Lock, Micro Handles, Ruler Base, Pinpoint Laser accessory. $7,500

Amara with ProStitcher $15,000

Avante (almost new) $7,500

Forte with ProStitcher $16,500

We will close the week of July 27 to prepare for the final closing sale.

On August 4 thru August 15 thread will be also be 50% off. Fixtures, tables, etc will also be for sale.

==============================
We'd love to have you stop by to talk quilting with us.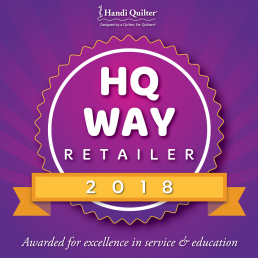 Click here for
HandiQuilter Website
Sheryl and Betsy ( S&B)